Hooray for Big Daddy!
I got to get all dressed up tonight and go to an awards dinner for my dad! He was inducted into the Richmond Business Hall of Fame in a ceremony put on by a service organization called the Junior Achievers. Now they're no Little Lebowski Urban Achievers (and proud we are of all of them), but they'll do.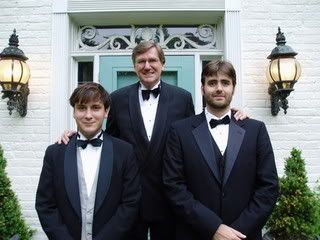 Nat, Dad and I looking all spiffy.
Not too much to tell about the ceremony that would mean anything to anyone who doesn't know Dad, but he gave a great acceptance speech. And there was an open bar all night, hells yeah!
My Mom and Dad
In other news, as soon as I find the time I am going to start a subordinate blog (hey, that's a good band name) of music that I have been listening. Mainly because I don't want Ted to listen exclusively to Phish shows from the late 90's.
My Bonnaroo tickets came in the mail today as well. And I finished putting primer up on the latticework of the house. Fun stuff. But not as fun as caulking.